Singing and moving throughout the year!
The holistic German program for families and preschool settings to promote the development of children.
The Songs
The central element of Liederturnen are new children´s songs that invite children to sing along, move, dance and relax. The themes of the songs relate to the children´s world of imagination, the cycle of nature and the environment they grow up in.
The Holistic approach
Our view of the child is holistic with emphasis on supporting the individual personal development and self-confidence of every child. Action-oriented learning with Liederturnen has the power to influence crucial development areas like motor, language, musical, rhythmical, cognitive, emotional and social skills. It is our objective to make an important contribution to the physical health and mental well-being of children.
Learning with Fun
The Liederturnen program is based on two general thoughts regarding how children are learning in their early years.
The first statement is one of Gerald Hüther, a well-known and often quoted German neurobiologist. He says: "Every learning process begins with one´s own physical body."
The second is of Renate Zimmer, an educational theorist with focus on early childhood and professor of sport science: "A child learns when it is playing. But it never plays because of learning but because the activity gives it a feeling of joy."
Our conclusion and motto for Liederturnen is therefore:
Children learn best when they are playing and having fun and when their whole body and senses are involved.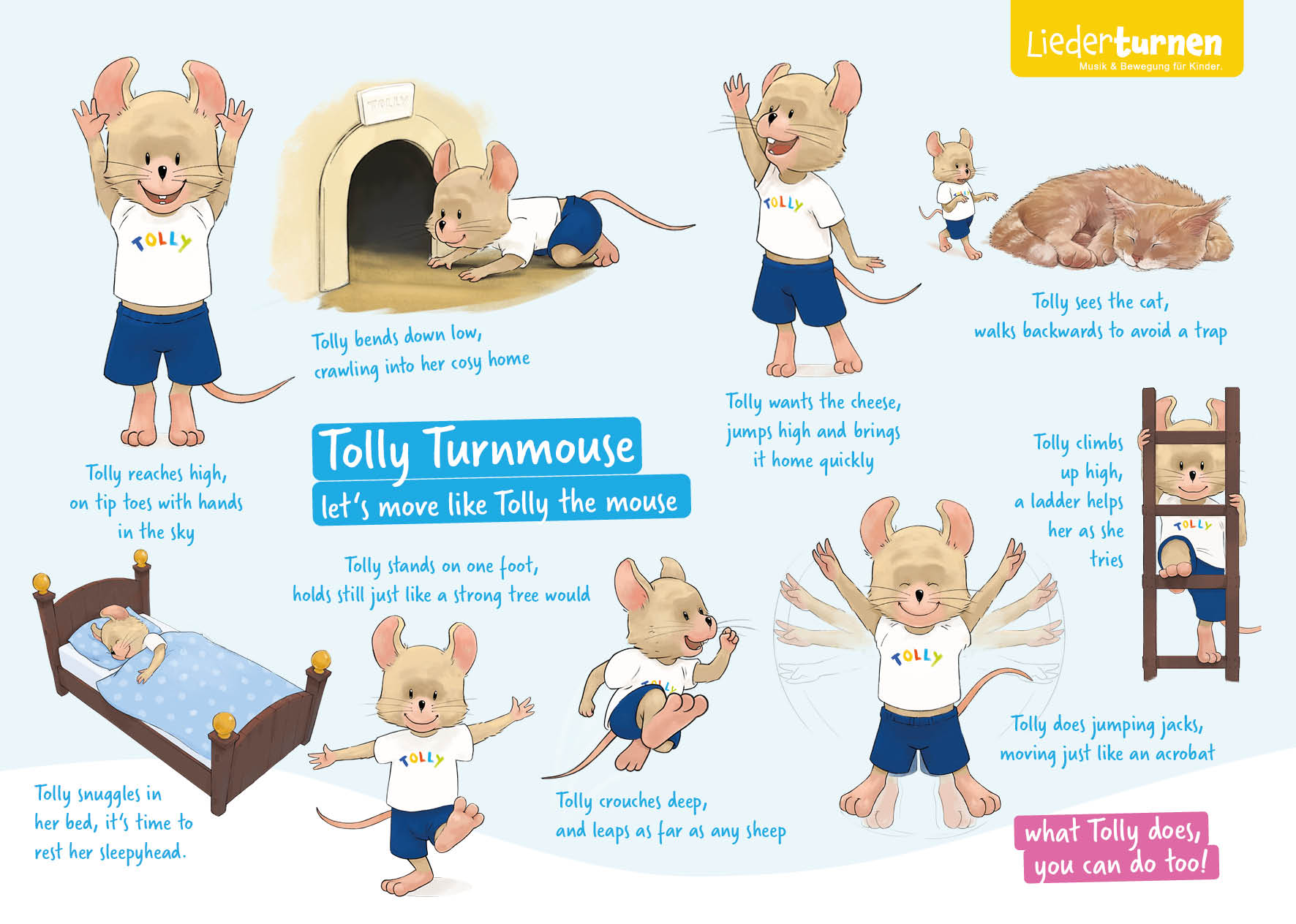 Tolly Turnmouse
Tolly Turnmouse is the little mascot of Liederturnen that children can identify with.
She is a friendly, playful and adventurous little mouse that encourages the children to come and play along with her. The slogan is:
"What Tolly does, you can do, too!"